Join Express Newark for a conversation with Newark-born artists Willie Cole and Adrienne Wheeler about Cole's recent works, Spirit-Catcher and Lumen-less Lantern.
More about the works
Spirit Catcher and Lumen-less Lantern, by Newark native Willie Cole, are two large-scale, chandelier-like sculptures made up of more than 3,000 plastic water bottles held together by metal wire. Cole recently created these works to address Newark's dual environmental crisis of 2019: the lead contamination of drinking water in aging lead pipes and the opening of citywide centers to distribute water through thousands of single-use plastic bottles. While the water crisis exposed racialized health disparities in New Jersey by revealing which neighborhoods have and do not have access to safe water, the city's sharing of thousands of cases of bottled water as a short-term solution further underscored our planet's plastic problem. As a result of these crises, 15,000 of the city's households were at risk for lead poisoning; meanwhile, the vast majority of plastics, including water bottles, are often made from toxic chemicals, particularly fossil fuels, that are harmful to all life. Difficult to recycle, plastics are responsible for 3.4 percent of our annual greenhouse gas emissions—they're a major contributor to another ecological and social crisis: climate change. 
In order to draw our attention to these crises, Cole has for decades built a practice of transforming everyday objects—ironing boards, shoes, hair dryers, bicycle parts, and other discarded items—into art. By invoking what he calls a "primitive aesthetic on a modern object," he applies the ancient craft of basket weaving to the 20th-century form of the plastic water bottle. As a result, his upcycling of these bottles awakens us to environmental threats while also demonstrating that art can disrupt these catastrophic cycles. As part of his 2022-2023 artist-in-residence at Express Newark, Cole—for the first time in his career—has invited community members into his artmaking process and his space (Express Newark transformed its Paul Robeson Gallery into his open studio for the year). Through this communal practice, and in the gathering thousands of used water bottles from throughout Newark to make his sculptures, Cole's installations move our collective imagination beyond the reductive use of the singular bottle and into a deeper reflection of our precious resources and of what we can accomplish together as a community.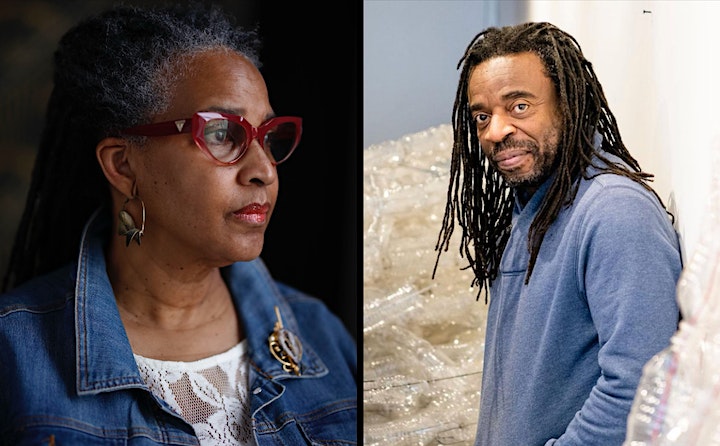 Willie Cole
In 2015, Cole's work was included in "Represent: 200 Years of African American Art" at the Philadelphia Museum of Art and "Wild Noise: Artwork from the Bronx Museum of the Arts" at El Museo Nacional de Bellas Artes, Havana. In 2016, his work was included in "Disguise: Masks and Global African Art" at the Brooklyn Museum. "Willie Cole: On-Site" opened at the David C. Driskell Center, University of Maryland and traveled to the Museum of Art at the University of New Hampshire, and Arthur Ross Gallery, Philadelphia in 2016. The following year, Cole had solo exhibitions at the Snite Museum of Art at the University of Notre Dame and at the College of Architecture and Design Gallery at the New Jersey Institute of Technology. In 2019, "Willie Cole: Beauties" opened at the Radcliffe Institute at Harvard University as well as "Willie Cole: Bella Figura" at Alexander and Bonin, New York.
Adrienne Wheeler
Adrienne Wheeler is a Newark, N.J. based visual artist, independent curator and artist educator at Paul Robeson Galleries, Express Newark, Rutgers University. She is the Lead Curator for Newark Arts Festival. Wheeler owned a brick and mortar gallery in NYC and continues to organize site specific exhibitions. Wheeler's paternal family history spans 200 years in Newark, N.J.
Her visual arts practice blurs the lines between spirituality, ancestry, oral history, and social engagement. Wheeler has exhibited and curated locally and internationally including, Cuba, Senegal and Australia. Wheeler's work is in public and private collections including the Newark Public Library, The Metropolitan Museum of Art and Whitney Museum of American Art.